© 2009 Custom Garden Designs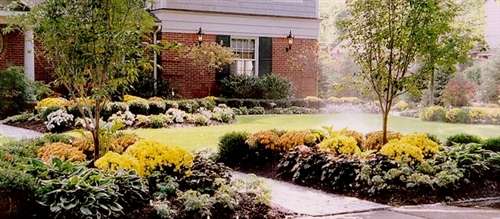 Photo above is an example of Informal Landscaping. This image of an Informal Garden with shade perennials and mums is a great example of a Shade Garden Design.
We also offer Pre-Planned or Custom Vegetable gardens designed to help new gardeners discover the health and financial rewards of vegetable gardening. Click here to read more!
Look over the "About" pages in this section to give you some garden concepts to think about.
Also think about whether you would like evergreen plants to give a sense of structure in the off months or whether you would like to use all the space for flowering shrubs and plants.
Think about whether you like room around your plants or whether you like them tight together.
"You really love what you do, don't you? I have never had a designer ask me such relevant and different questions. Now I know you really understand that I love perennials and English Gardens and I don't want formal structure." Oakland Township, Michigan