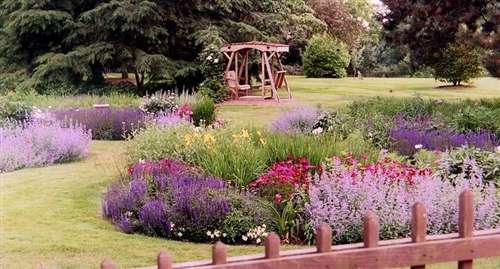 Photo above is an English Garden landscape example with lounge swing. This English Garden with Catmint, Salvia and Astilbes is a great example of a thought out English Garden Design.
We designed this website so you can read the buttons down the left top to bottom. This page will give you a summary of the sections (portrayed here in bold type). The first button - About Us - will tell you who we are and why we have the experience to design your English Garden, perennial garden or landscape design.
The next button will make you realize that all the photos in this website are our work, our garden designs, our installations, our knowledge making the plants grow, flourish and bloom.
Then if you are interested in having a garden it will advantageous for you to look at the Design Portfolio button and several of the designs we have done and installed and look through all the images of the flowers we chose for that project. This will assist you in realizing what you love and what you don't. Should you choose to call us for design help the designer will be using examples of our work to ask you questions.
The Garden Design Ideas button can further explore what you like and don't like by looking in more detail at concepts surrounding different garden design topics.
Now you are ready to look at plants - hence the Plant Button. We've broken the plants down into types. Each type has a slide show of some of our favorites. You'll notice that each plant photo has a title that states the plant's common name, flower color, months of bloom and mature height. Again these are all plants we grew. There is also a link to more of our favorite varieties in type form. Spend some time looking at plant types, colors, textures and leaf types. Again you and your designer will discuss these items.
The Design Package Button will show you how we charge for this design package.
Search if you have a question.
Review frequently asked questions.
Look at links to fabulous gardens for further inspiration.
And then call, email or send smoke signals - we'd love to help you have the garden of your dreams!