© 2009 Custom Garden Designs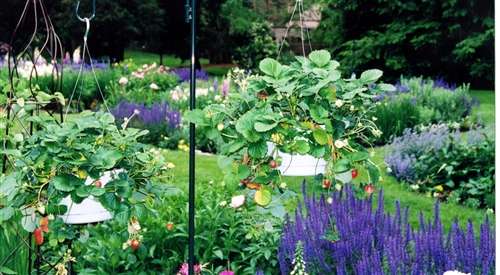 Photo above is an example of an English Garden Landscape with Hanging Strawberry Plants. This English Garden shows a combination of perennials, oriental lilies, salvia and peonies and has been blooming for many years.
Custom Garden Designs is your Internet garden design service.
Our background includes being owner/designers for a custom landscape design, installation and horticultural services company serving the premier estates in Michigan. We ran that design/build business from 1993 to 2007 and have served hundreds of clients.
You can view several of our garden designs and installations by clicking on Design Portfolio to the left. There are five examples of garden design projects. As these examples show, we do everything from formal garden designs to English Gardens.
We interview each client thoroughly, then we design the complete picture from the ground up. Every Custom Garden Designs job is custom. No "canned" garden designs. No garden "templates". We make sure that the trees, shrubs, perennials and bulbs all harmonize so that the picture each month is both unique and beautiful.
Custom Garden Designs was created to provide a custom, detailed approach to landscape and garden design for customers anywhere in the United States, Canada, Mexico and the Caribbean.